C&C Reservoirs latest EOR content release is now available in DAKS. This release sees 40 new EOR reports being added to the DAKS EOR Module.
The 40 new EOR reports included in this release brings the total reports available in the DAKS EOR Module to 160. C&C Reservoirs' EOR reports provide complete documentation on the EOR methods proven to be effective in enhancing field production performance. Each report records the lessons learned and best practices within the context of EOR over the lifespan of a field or reservoir. The highlights below show examples of thermal, chemical, miscible and microbial EOR methods used to improve production performance in a selection of global analogues.
Highlights include:
Chemical ASP Flood: Daqing (Saertu)- 5-Spot Pattern Commercial Test (China)
The Saertu Field is the largest of the Daqing Field Complex, located in the northern part of the Central High in the Songliao Basin, NE China. A successful ASP Flood project, containing 30 injectors and 39 producers, targeted a reservoir of high permeability fluvial channel sands. This process consisted of five steps; pre-flush water injection, pre-ASP polymer slug, main ASP slug, secondary ASP slug, followed by a post-ASP flood polymer slug. This resulted in an estimated ultimate incremental recovery of 19.3% for the test area.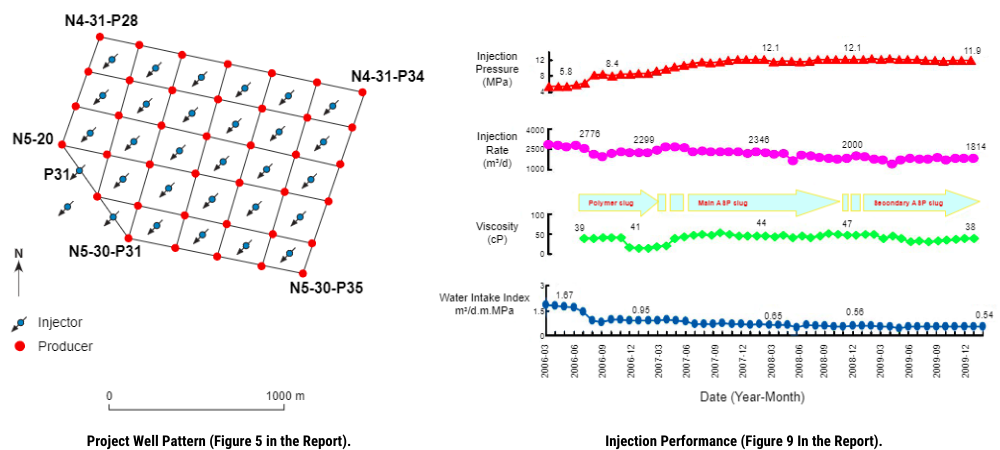 Miscible CO2 Miscible Flood: Weyburn Field-wide Application (Canada)
The Weyburn Field is located on the northern flank of the Williston Basin, Saskatchewan, Canada. Following an early vertical and later horizontal infill drilling campaign, a phased CO2 WAG miscible flood was initiated in the western part of the field to maximise recovery in areas with different reservoir architectures. The existing inverted 9-spot water-injection pattern was altered into line-drive configuration by converting on-trend producers into CO2 injectors. The CO2 WAG miscible flood is currently the largest CO2 miscible flood project in Canada.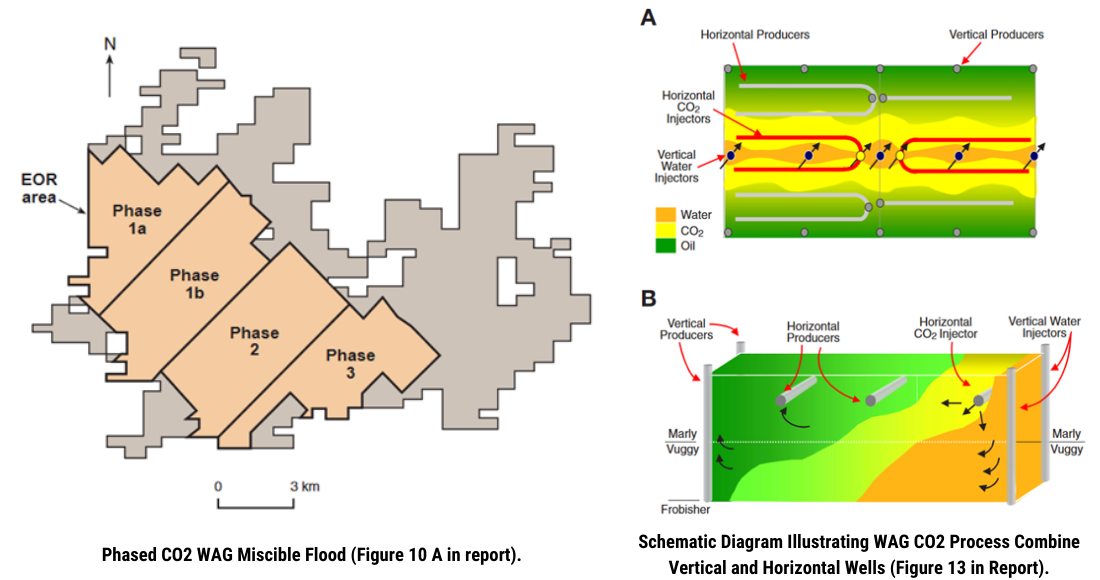 Thermal Cyclic Steam Injection: Peace River Field Multilateral-Well Pilots (Canada)
The Peace River bitumen deposit is located on the Peace River Arch in the Western Canada Basin, NW Alberta, Canada. To produce the bitumen commercially, several projects were conducted, including Multilateral Well Cyclic Steam Injection. Three pilot projects were carried out, all of which were successful with ultimate recovery factors ranging from 26% to 34%, with 13-23% of the predicted ultimate recovery for each project being attributed to cyclic steam injection.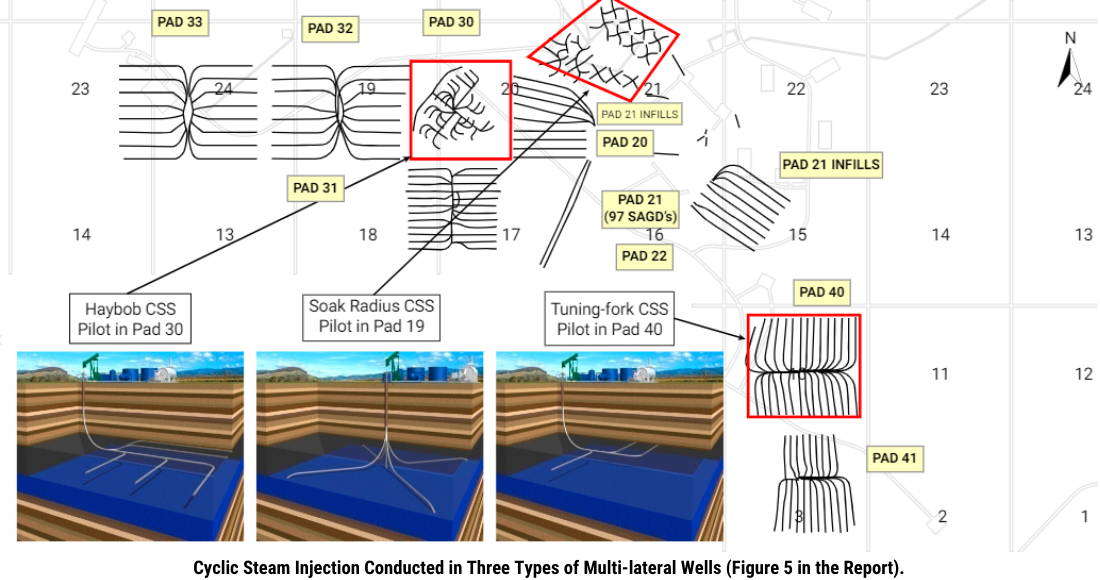 MEOR Microbial Flood: Vizcacheras Field VI-286 Pattern Pilot (Argentina)
The Vizcacheras Field is located in the Cuyo Basin of west-central Argentina and produces oil with an API gravity of 29° and an average viscosity of 6.3 cP from the Upper Eocene Papagayos reservoir. A microbial flood pilot was conducted with 19 months of microbial inoculation. This resulted in an oil rate increase of 35%, water-cut drop from 98.7% to 97.3%, and incremental recovery of 2.7%.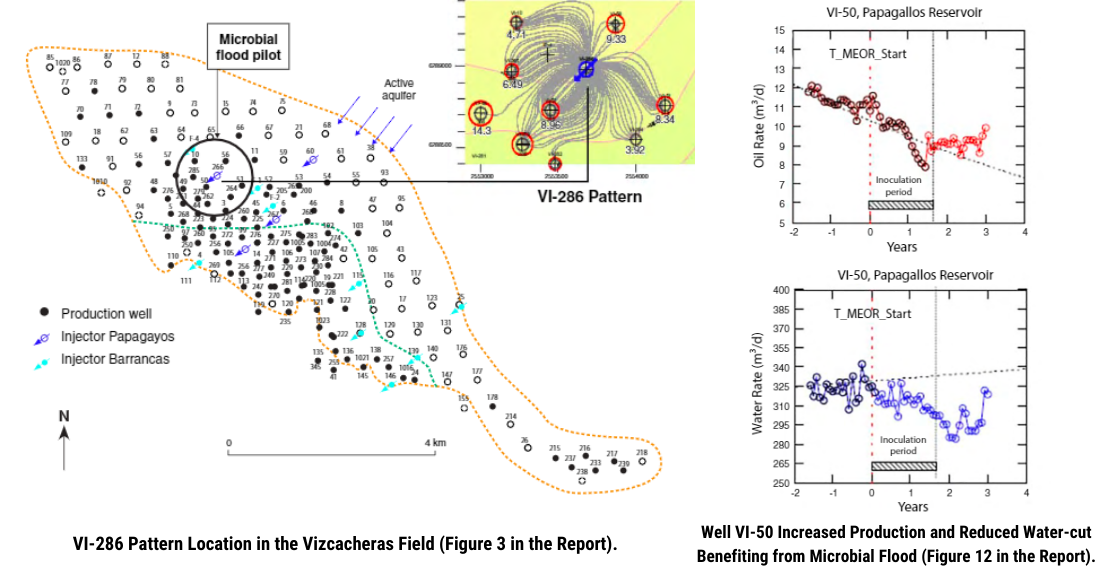 Inside the DAKS EOR Module
The DAKS™ EOR Module has been designed to optimise the screening of enhanced oil recovery processes to maximise outcomes in every reservoir and production setting, and now holds over 160 EOR reports. The knowledge contained in the EOR Module addresses some of the common industry challenges related to using EOR techniques. Through the identification of applicable global analogues and best practices, our users can discover the most appropriate technique for their assets and understand the key risks or uncertainties involved.
Don't have access to the DAKS EOR Module? Learn more about the DAKS EOR Module or Contact us today to find out how the DAKS EOR Module can help you achieve more from your existing assets.