DAKS™ 6.0 Is Now Available
Over the last year, the team at C&C Reservoirs have been working hard to improve the Digital Analogue Knowledge System (DAKS). The new DAKS 6.0 platform includes significant upgrades to the performance and functionality of DAKS. Along with improvements to the user interface and additional modules. These changes will make it faster and easier for users to incorporate global analogues into their workflows and make better decisions throughout the E&P lifecycle.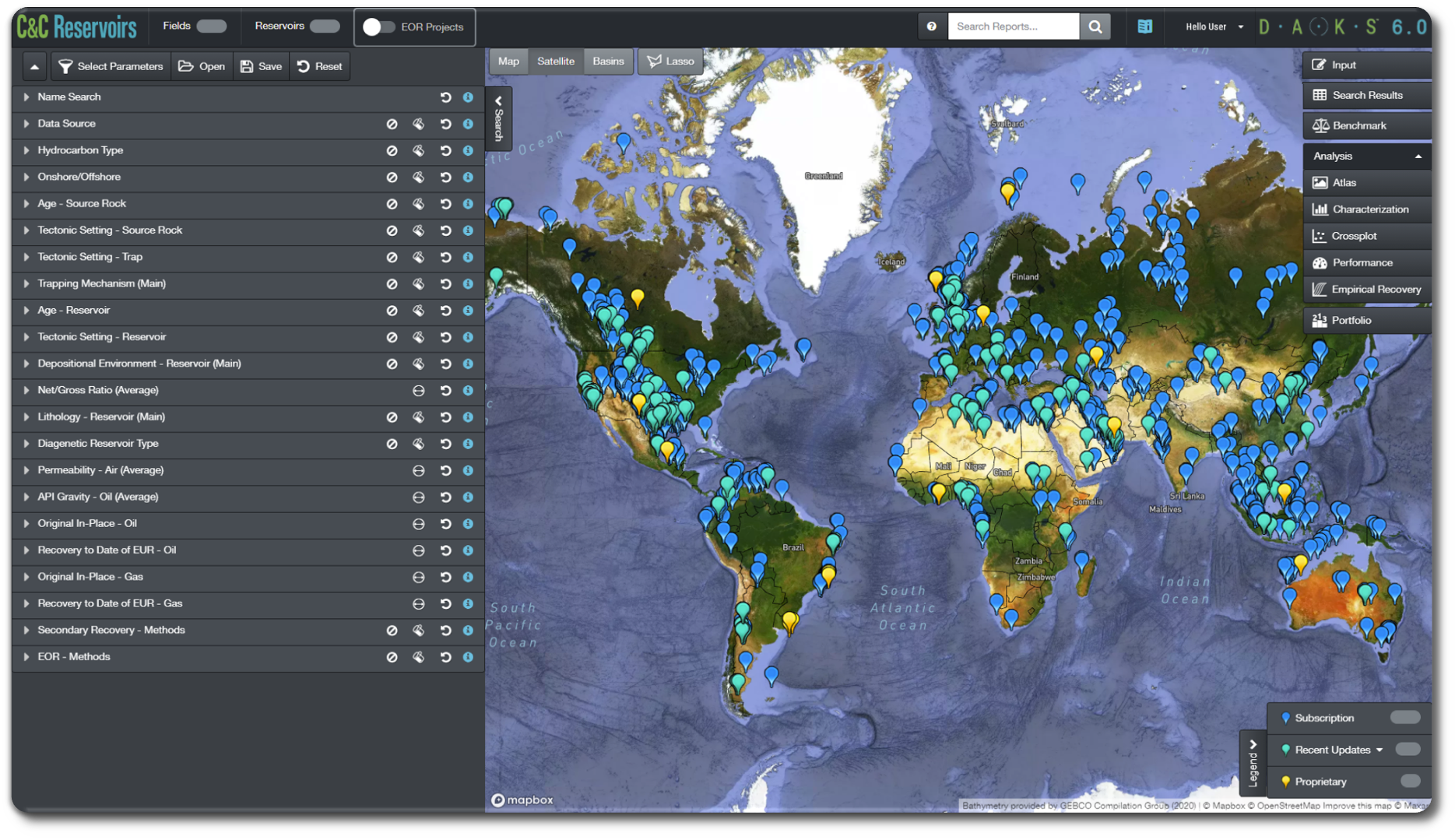 DAKS 6.0 – User Interface Improvements
Full definitions throughout DAKS
DAKS now provides a convenient way for users to view the full definition of any given parameter while working in multi window and screen environments. By integrating the parameter definitions window throughout DAKS, users can easily see how the parameters are defined that they use to conduct benchmarking and analysis of global analogues. To access this new feature simply click on the blue information icon next to each parameter. Once open the parameter definition window remains open for reference and new parameters can be viewed on demand from within this new feature.
Tutorial overlays for tools and features
C&C Reservoirs has introduced tutorial overlays throughout the DAKS platform. This convenient new feature makes guided video tutorials available to all users when working in the many tools within DAKS. This feature will be particularly helpful to new or infrequent users, enabling them to learn to use DAKS quickly and efficiently.
Improved change communication
C&C Reservoirs is constantly updating and improving the DAKS platform with new and updated content and improved functionality. As part of the DAKS 6.0 release, C&C Reservoirs are now highlighting the volume and frequency at which key information is updated for Field Evaluation Reports (FER), Table of Parameters (ToP) and Production Curves.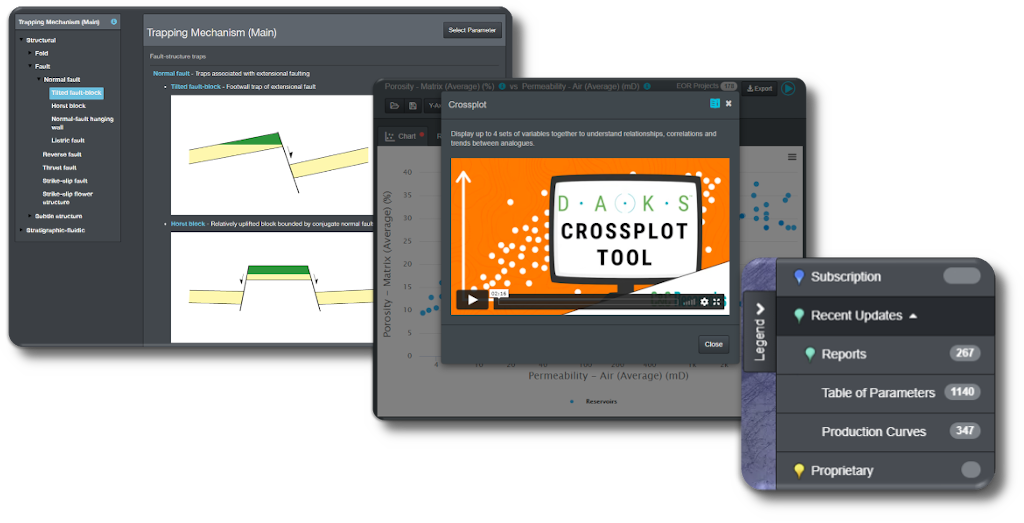 DAKS 6.0 – Performance and Functionality Improvements
Generate and control the display of labels within the crossplot tool
Users will now be able to control the display of field and reservoir names within the Crossplot Tool. This improvement makes it easier for user to export finished graphs, tables, and figures, aiding the formation of presentations and reports.
Access the benchmarking tool from within all analysis tools
To improve the accessibility of the Benchmark Tool, C&C Reservoirs have added a benchmarking icon across the various analysis tools in DAKS. This makes it simpler and more convenient for users to quickly conduct benchmarking and analytics of global oil and gas analogues.
Select and convert between unit systems for numerical parameters
Users are now able to select Imperial or Metric units when inputting individual parameter values. These values will also be automatically converted to display in your chosen unit system.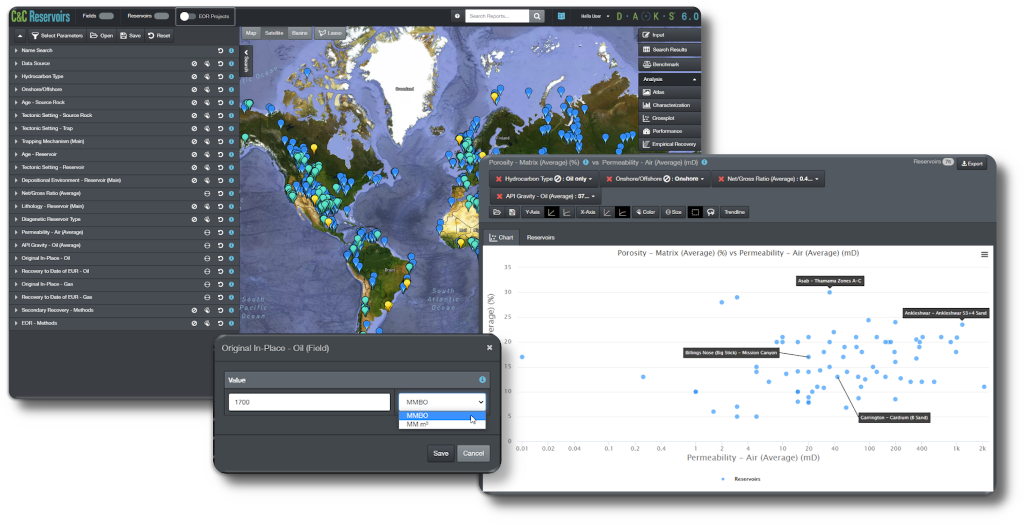 DAKS Education Page
The DAKS Education Page has been completely revitalized. Not only have the team at C&C Reservoirs updated all existing training videos within the new DAKS 6.0 platform, but they have also expanded the library to include a new range of guided, in-depth tutorials. These tutorials are specifically designed to advance the proficiency of all DAKS users.
EOR Module Improvements
C&C Reservoirs have enhanced the EOR Module by expanding the number of EOR specific parameters available throughout the Table of Parameters, Search and Analysis Tools. Roughly 80 new parameters will allow users to further optimise the screening of EOR processes to maximise recovery of their own assets. As part of the EOR Module improvements, C&C Reservoirs have also redesigned the EOR interface button on the DAKS home page.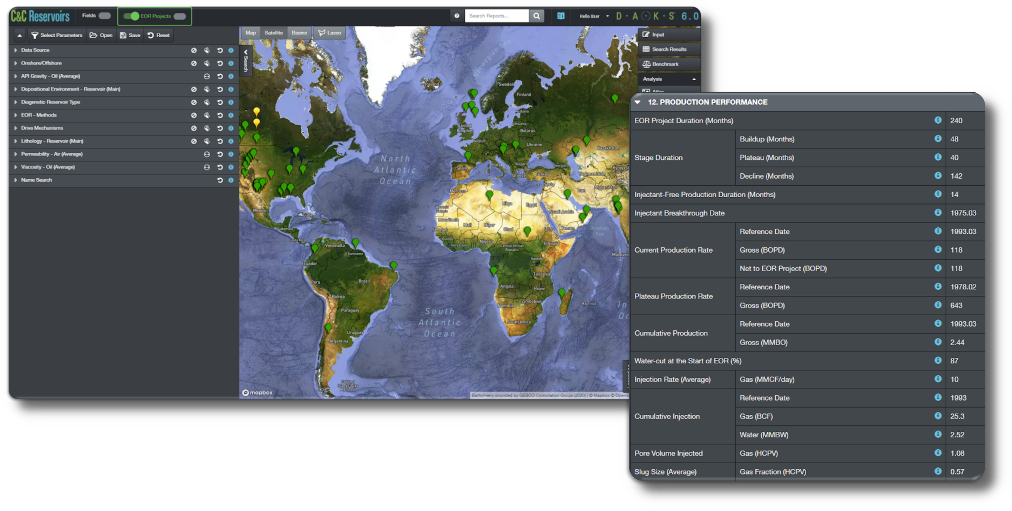 Portfolio Tool Improvements
Users with access to the Portfolio Tool can now visually compare their assets against global analogues across all the analysis tools in DAKS. This will further enhance the capability of users to conduct measurable, repeatable analysis of portfolio performance and test parameter sensitivity for direct input to corporate portfolio management workflows.
Find out more
If would like to learn more about the new DAKS 6.0 platform or have any questions please Contact Us Today. Also feel free to check out our short online demo "The DAKS Experience" to get a brief overview of the DAKS 6.0 platform.