C&C Reservoirs' UK team have recently begun working remotely on a permanent basis. C&C Reservoirs have embraced the changes that have been imposed in response to the ongoing Covid-19 crisis and are transitioning towards a new normal. We are already well adapted to operate in a distributed environment and meet the challenges of changing modes of work. On October 19th 2020 we officially moved out of our former Reading Office. All staff will be based primarily at home although we will continue to maintain a smaller office in the centre of Reading to allow our staff the option to hot desk, hold meetings, and work collaboratively.
The Choice to Work Remotely
During March 2020, as local and international lockdowns looked increasingly likely, all C&C Reservoirs employees were instructed to work from home for their own safety. Whilst this was a difficult transition for many, it was also an opportunity to experience a new way of working. COVID-19 was proving to be unpredictable and disruptive, and C&C Reservoirs' philosophy, as it had been in previous downturns of the oil and gas industry, was that versatility and adaption was required to continue to succeed.
As everything began to move online, staff were provided with appropriate home-working equipment, meetings were hosted virtually, and weekly check-ins were organised to ensure our staff were getting the support they needed to effectively do their jobs. To help maintain collaboration and social engagement within C&C Reservoirs, weekly get-togethers were organised to provide the team with an opportunity to keep in touch. Through these socials, quizzes and classes, we learned to relax 'on camera', understand the rules of virtual meeting etiquette and enjoy the chance to catch up socially during lockdown.
In the subsequent weeks C&C Reservoirs began to see productivity increasing as people settled into their new work environments. While many factors contributed to this rise in productivity, we believe one of the most significant was employee wellbeing. Without a need to commute to a centralised workplace our employees achieved a healthier work-life balance. Hours saved in commuting times meant everyone had more available time to engage with their life outside of work.; some employees even took up new hobbies such as learning a musical instrument. Most importantly everyone had more time to spend with their families and friends, even if it was temporarily in a socially distanced or in a virtual way.
The decision to implement remote working policies stems from our relationship of trust and respect within C&C Reservoirs. Working remotely gives more freedom and control to all our staff over their working day and environment. This autonomy allows our employees to operate in a way that is most conducive to their individual productivity, enabling them to perform at their best. The provision of flexible office space, for those who need it, is also a key part of this initiative, ensuring a safe working environment and choice for everyone. We are pleased to say that this transition has been a positive experience, and that the adoption of agile working practices benefits both the company, our customers and our employees.
What our Employees Think
Jiulin Guo, Geoscientist – "My experience of working from home is joyful and fulfilling. Time spent commuting in the mornings and afternoons is now used for problem-solving and planning. Despite having young kids at home, the ability to work flexibly has enabled me to achieve more with greater efficiency."
Kirsten Gilchrist, Project Manager – "Moving from full time office work to working from home permanently provided both an exciting and, at the beginning, slightly daunting opportunity. It was great to gain extra time daily by removing the commute, but I worried this would be to the detriment of our team morale and personal relationships within the office. However, as we have adapted to our new working environment and daily routines my concerns have been lifted. By scheduling time each week to catch up with the team over video calls, and regular office meetings we can stay in the loop while maximising the time to focus on our projects and enjoying the additional time at home with the flexibility this brings."
Kieran Tatschner, Graduate Marketing Assistant – "The thought of working from home was a fairly unfamiliar concept to me at first but I was very excited to give it a go. My manager helped to ensure I had everything I needed to do my job, and within a day I was all set up to work from home. Whilst I do miss the social side of an office environment, the ability to work flexibly has allowed me to achieve more at work and more in my personal life."
Jonathan Caswell, Senior Researcher – "The transition from working in an office environment to working from home was surprisingly seamless. After my manager and colleagues ensured I had all the IT equipment I'd need, I quickly settled into a new routine, and have been able to enjoy the new work-life balance that working flexibly allows me to achieve."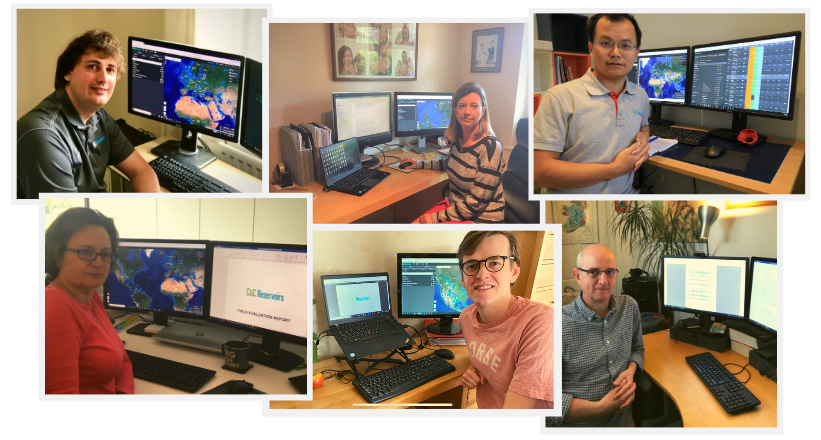 A considerable amount of work over a period of more than six months has gone into successfully achieving our new remote working environment. We are excited to move forward with this next phase of C&C Reservoirs' growth and will continue to provide value across the E&P lifecycle for our subscribers by leveraging knowledge from the world's most important fields and reservoirs through our Digital Analogue Knowledge System (DAKS).