C&C Reservoirs is known for producing high-quality and in-depth reports on the world's most important fields and reservoirs. These reports are what we call our "Reservoir Evaluation Reports (RERs)", and the dedicated team of geoscientists and engineers at C&C Reservoirs have been creating, maintaining and improving these reports since mid-1990s when the company was formed. This article is intended to give some insight into the detailed process of creating these reports – and why this is important to our customers.
What Are Reservoir Evaluation Reports?
Reservoir Evaluation Reports represent systematic documentation of the world's most important fields and reservoirs. These reports document best practices and lessons learned from more than 150 years of global E&P activity, information which can be used to inform impending decisions throughout the E&P lifecycle. We have created thousands of Reservoir Evaluation Reports over the years, which is a testament to our well-established, tried-and-tested workflow. This workflow, practiced by our team of experienced report writers, is responsible for the reliability and consistency that our customers rely on from C&C Reservoirs and the Digital Analogue Knowledge System (DAKS™).
Each report within DAKS™ follows a consistent layout and is built around C&C Reservoirs pioneering and holistic classification scheme. This classification scheme enables us to document the story of fields and reservoirs in a coherent and consistent manner, which is of critical importance when comparing analogous reservoirs and fields. Our report writers compile, synthesize and then rigorously review all available data, to which they apply the established rules and guidelines from the classification scheme in order to create a comprehensive Reservoir Evaluation Report.

What Goes Into A Reservoir Evaluation Report?
Our Reservoir Evaluation Reports are intended to document the key facts, lessons learned and best practices from each play, petroleum system and reservoir type around the world. The reports are constructed from first principles within a sound geologic framework, whilst also providing the reservoir-engineering context. Reservoir Evaluation Reports begin with an executive summary that documents the essential characteristics of the field, and then goes on to summarize how the field and reservoir was discovered and appraised and sequence of events leading to commercial production. Our reports also details field- and reservoir-level specifics with sections covering: trap configuration, reservoir characteristics, resources & fluid properties, development strategies, reservoir performance & improved recovery methods. Each report contains on average around thirty high quality figures which are integrated with the text and are critical to documenting the story of a reservoir.
Each report has a corresponding Table of Parameters (TOP) within DAKS which contains hundreds of geological and reservoir engineering, and production attributes. Information within the TOP is codified into a coherent global knowledge base, from which reservoirs can be characterized and benchmarked. Our report text, figures, and corresponding TOP are all fully integrated and are key in providing the complete story of a reservoir. The knowledge standardization provided from the report and TOP enables a user to quantitatively, objectively and repeatably benchmark their own prospects and assets against the global analogue intelligence from DAKS.
Who Creates Reservoir Evaluation Reports?
Our reports are written by a global team of seasoned geoscientists and reservoir engineers with the majority having more than twenty years' experience with major operators. Being able to draw upon their collective experience means that C&C Reservoirs can meticulously review and validate available published data and integrate this knowledge into a synthesized, coherent story. The production of Reservoir Evaluation Reports is a team effort with researchers, report writers, editors, production analysts and graphic designers all contributing their expertise. Collaboration between team members is essential for efficient production of reports. This efficient, yet thorough, process has been under constant refinement since the mid-1990s and enables us to publish reports onto DAKS for our subscribers' use as quickly as possible, without compromising quality.
Joanne Reader, Lead Senior Analyst – ''As C&C Reservoir report writers, we work in collaboration and draw upon our collective global experience to provide the most accurate and intelligent data to our customers. C&C Reservoirs has enabled me to use my 25-year Industry experience to really understand what makes a successful oil and gas field, from discovery, appraisal to enhanced recovery processes!'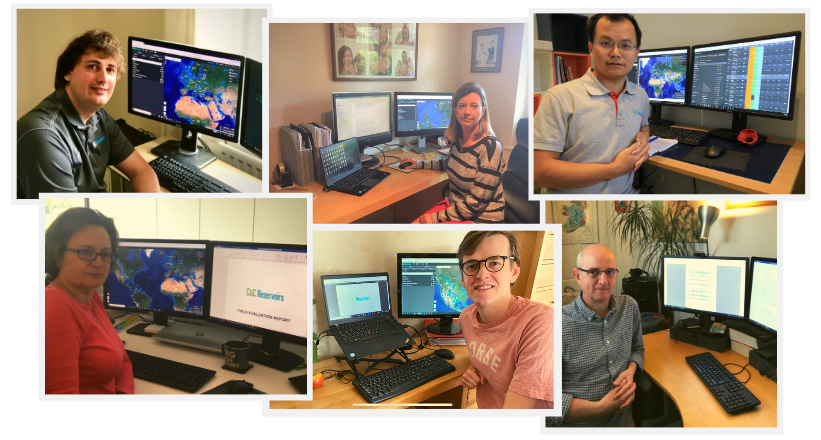 A few of the C&C Reservoirs UK Content Team
How C&C Reservoirs Guarantee Quality
In addition to our people and process, we also have rigorous editing and quality control steps which each report must pass through before publication. We also use DAKS' analytical tools to review and cross-check data. The powerful set of characterization, benchmarking and portfolio ranking tools allows us to make sure each reservoir stands up to global benchmarks. Quality control stage gates throughout the workflow ensure that each report is consistent and meets the quality standards that we are known for.
At C&C Reservoirs, we understand the need for high quality knowledge to improve the decision-making process and drive value throughout the E&P lifecycle. Implementing a higher degree of informational accuracy allows our users to understand their assets on a deep technical level. This gives geoscientists and engineers confidence that their ideas are grounded in reality and fact, allowing them to make better decisions across the entire E&P lifecycle.
Pamela Sansom, Lead Senior Geologist – "At C&C, I can leverage my extensive international operator experience through the report writing workflow, allowing me to assimilate large amounts of technical data and to quickly focus-in and filter-out the key facts and important analogue parameters. The key skill of the report writer is to distil and explain the development story, production performance and lessons learned in the context of the intrinsic geological characteristics of the reservoir."
Our focus at each stage of the report creation process is quality, which does not stop at the time of publication. We continually review each reservoir within DAKS and update them when new data becomes available. We also have a knowledge maintenance program where we annually check the population of parameters where required, and quality control all parameter values ensuring the reservoir knowledge base remains current and relevant.
A huge volume of work goes into the creation and maintenance of each Reservoir Evaluation Report, to ensure that our subscribers are getting the best quality information available. Within DAKS our reports now document more than 70% of global conventional recoverable reserves. Our reports are just one of the factors that makes C&C Reservoirs the leading provider of analogue intelligence to the oil and gas industry.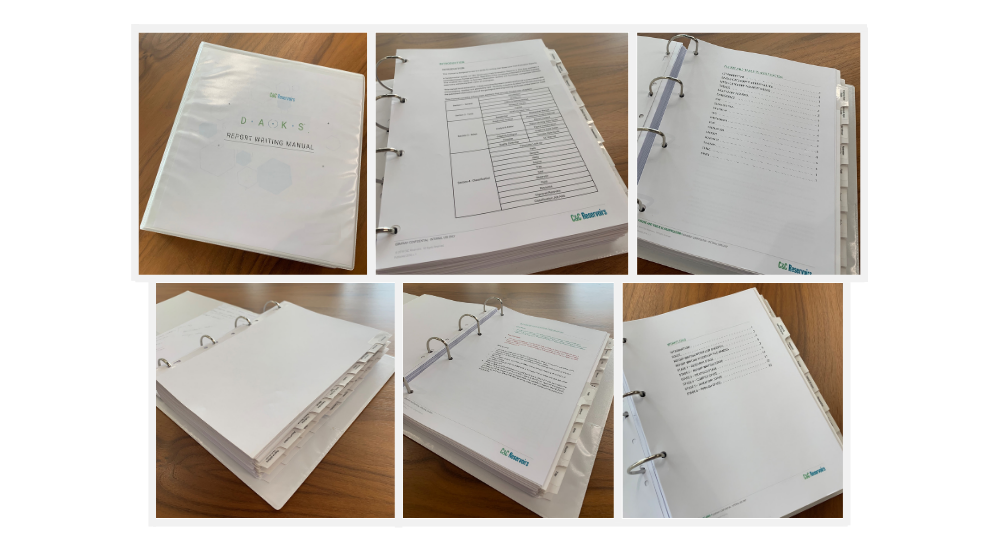 The C&C Reservoirs Report Writers' Manual is over 500 pages long. It contains detailed guides for ensuring the quality of our Reservoir Evaluation Reports.