Stuck at home? Leverage DAKS™ during the current crisis to make better decisions today for a brighter future tomorrow
The Digital Analogue Knowledge System (DAKS™) is a cloud-based platform globally accessible from anywhere. This is a considerable advantage when many of us are working away from the office and needing to adapt in a time of crisis. DAKS™ was designed to improve decision quality and drive value across the E&P lifecycle, integrating a user's expertise and knowledge on their own assets with global analogue intelligence.
Due to the sudden changes following the COVID-19 pandemic and the sudden collapse in the oil price, we all need to find ways to improve operations using workflows and best practices to come up with innovative and cost effective new ideas.
At C&C Reservoirs we have been helping clients to do just that for many years and today is no different.
Under the current circumstances, companies have become more financially constrained, and so they must investigate ways to cut costs and reduce spending, while maintaining efficiency. Exploration activities are usually the first to be hit by these reductions and focus is more likely to be on finding ways to increase production while keeping costs under control.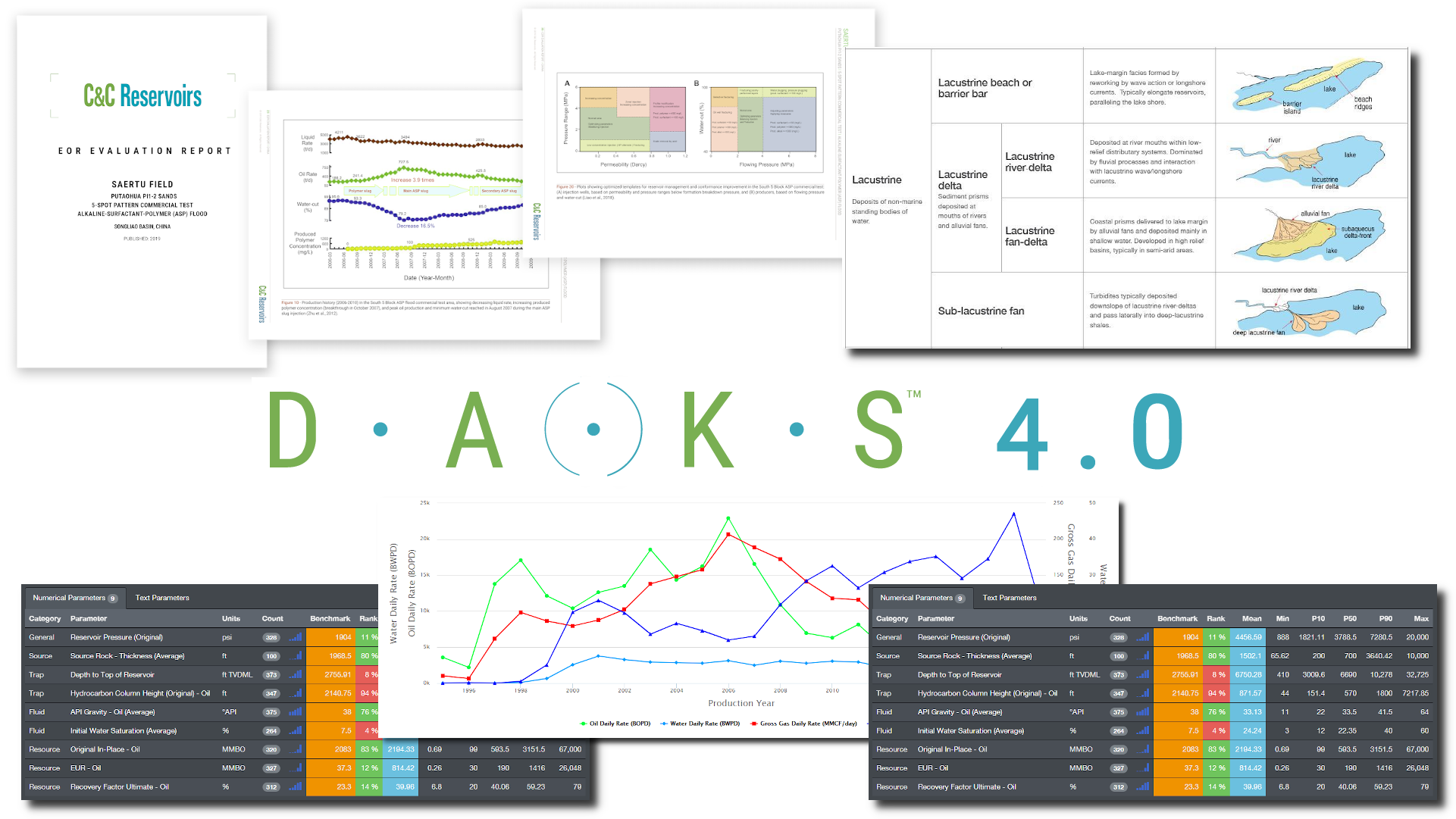 How can we effectively leverage DAKS at this critical time?
One of our greatest challenges in the industry is how to pool our collective experiences and talents across the globe. A simple and effective but also consistent way to review the world's best success stories regarding development and production practices is therefore a useful resource.
When you compare your asset's performance against the world's top performing fields and reservoirs, you can quickly identify ways in which you could optimize your processes. You also learn how to avoid mistakes previously made by other field operators, and more easily achieve your objectives. Can we then refer to what was done successfully or unsuccessfully in other fields under similar conditions? What would then be the best approach?
There are many ways in which you can leverage global analogue intelligence to your advantage. You might consider using this knowledge for testing new ideas for production improvements or establishing the technical limits of your reservoir. You can use analogues to plan, evaluate and screen future tertiary recovery and enhanced oil recovery techniques. The review of how specific technologies have been successfully used globally to date, such as horizontal and multilateral or underbalanced drilling, gravity-assisted thermal recovery, or other such techniques is of great value. Even post-mortem analysis of pre-drill and post-drill parameters can be analysed. Analogues can be used to gain a deeper understanding of the factors that control reservoir performance and recovery efficiency; valuable information that can be employed to maximize recovery over a field's life. If you are more interested in identifying opportunities for reserves growth and benchmarking against what the best performing analogues to your asset are doing, then this is also possible using analogues and DAKS™.
Very often critical technical and business decisions require thorough analysis of all available data, yet we rarely have enough resources or time to do this extensively, which leads to numerous and costly setbacks. The inclusion of an analogue study at the early stages of analysis provides significant benefits through acquisition of critical insights into the most important risk factors on a particular asset.
If you would like to find out more, in the coming weeks, we are planning to launch a series of articles and live webinars with case studies. For those of you who would like to join us we will be covering how to leverage analogue studies for better decision-making and sharing industry standard best practices throughout the E&P cycle. For DAKS™ users we will also focus on the most common workflow errors, and how we might avoid them.
All are invited to join our mailing list to receive alerts for the upcoming webinars. If there are subjects of particular interest to you, please get in touch so that we can include them in future sessions and in the meantime, we would like to extend our best wishes to all during these uncertain times.
Stay safe!
The C&C Reservoirs Team